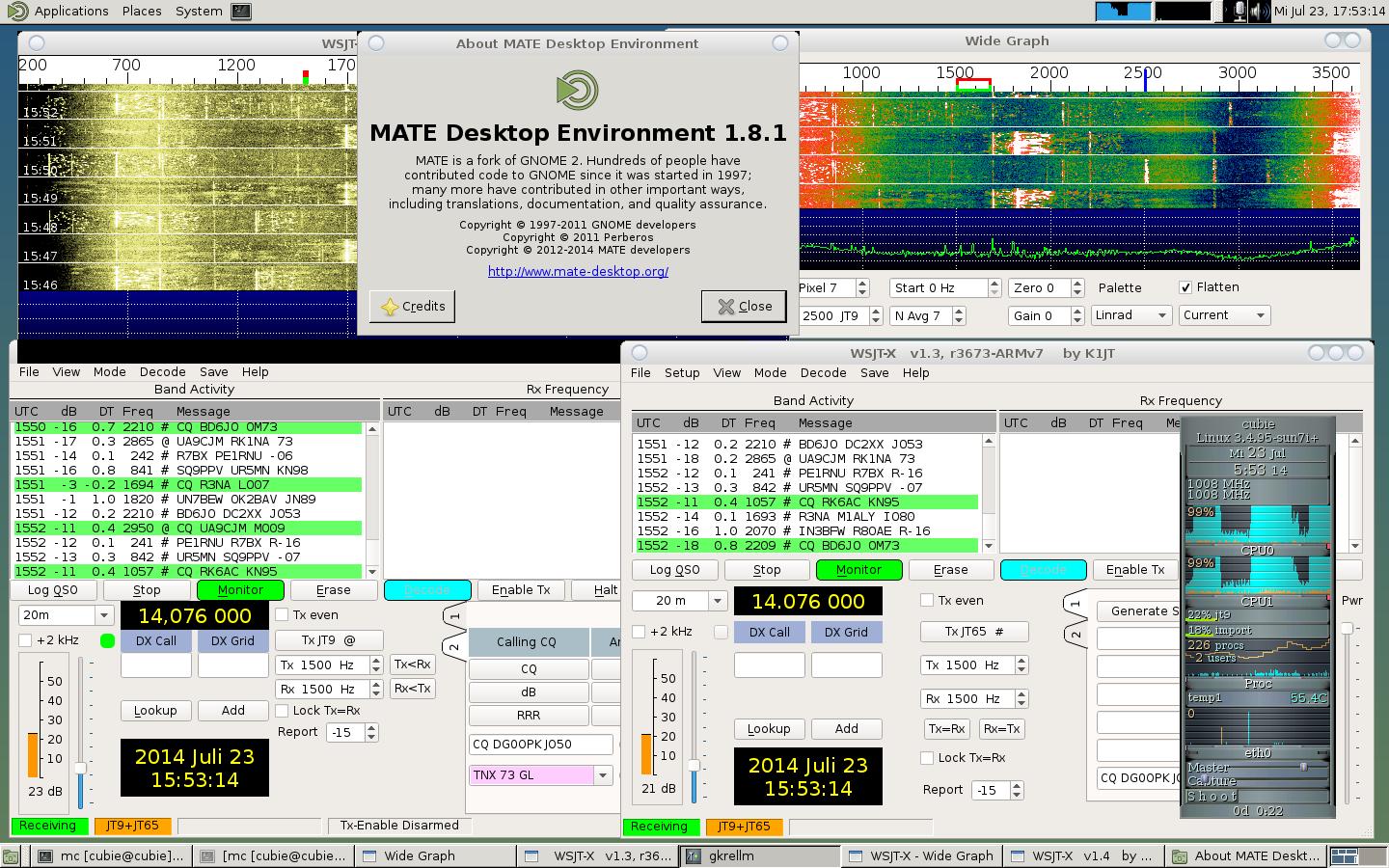 update: 21.September 2014
Banana Pi arrived some days ago. It uses the same CPU like the Cubieboard2...
so most of work done for the Cubieboard2 before, will also run here.
I made a first test with the BananaPI Lubuntu image, copied my compiled
Cubieboard2 versions to the BananaPi and it works.
After removing the microphone and setup an external input socket
I checked WSJT,WSJTx,WSPRx and WSPR.
Also the A20 kernel updates from DANAND running. (actual version is 3.4.103c)
(correction see below)
Additionally I tried a 20% overclock of the CPU to 1.2GHz and it looks ok.

Banana PI running WSJT10 on Lubuntu

Banana PI running WSJTx r3505 on Lubuntu
Banana PI running WSPRx r3058 on Lubuntu
FREEDV is RUNNING on CUBIEBOARD2 under DEBIAN Jessie,
but I saw only low activity on then main QRG 14.236 MHz.


FREEDV running on Cubieboard2 with Debian Jessie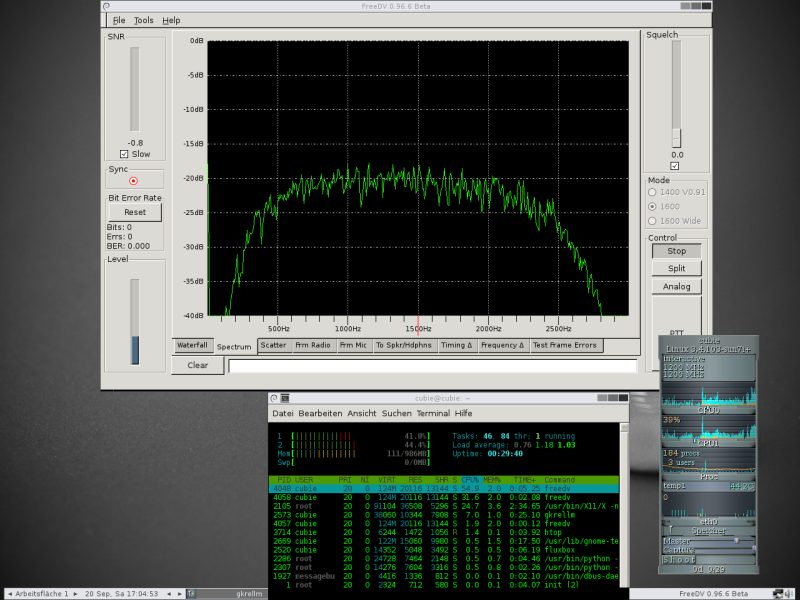 update: 18.October 2014
I tried out the new CUBIAN X1 Image.
It uses MATE-Desktop and Debian Backports.
So it is possible to use some newer packages. FREEDV could be found
and tried out under Cubian X1 (DebianWheezy).

Cubieboard2 running CubianX1, MATE and FREEDV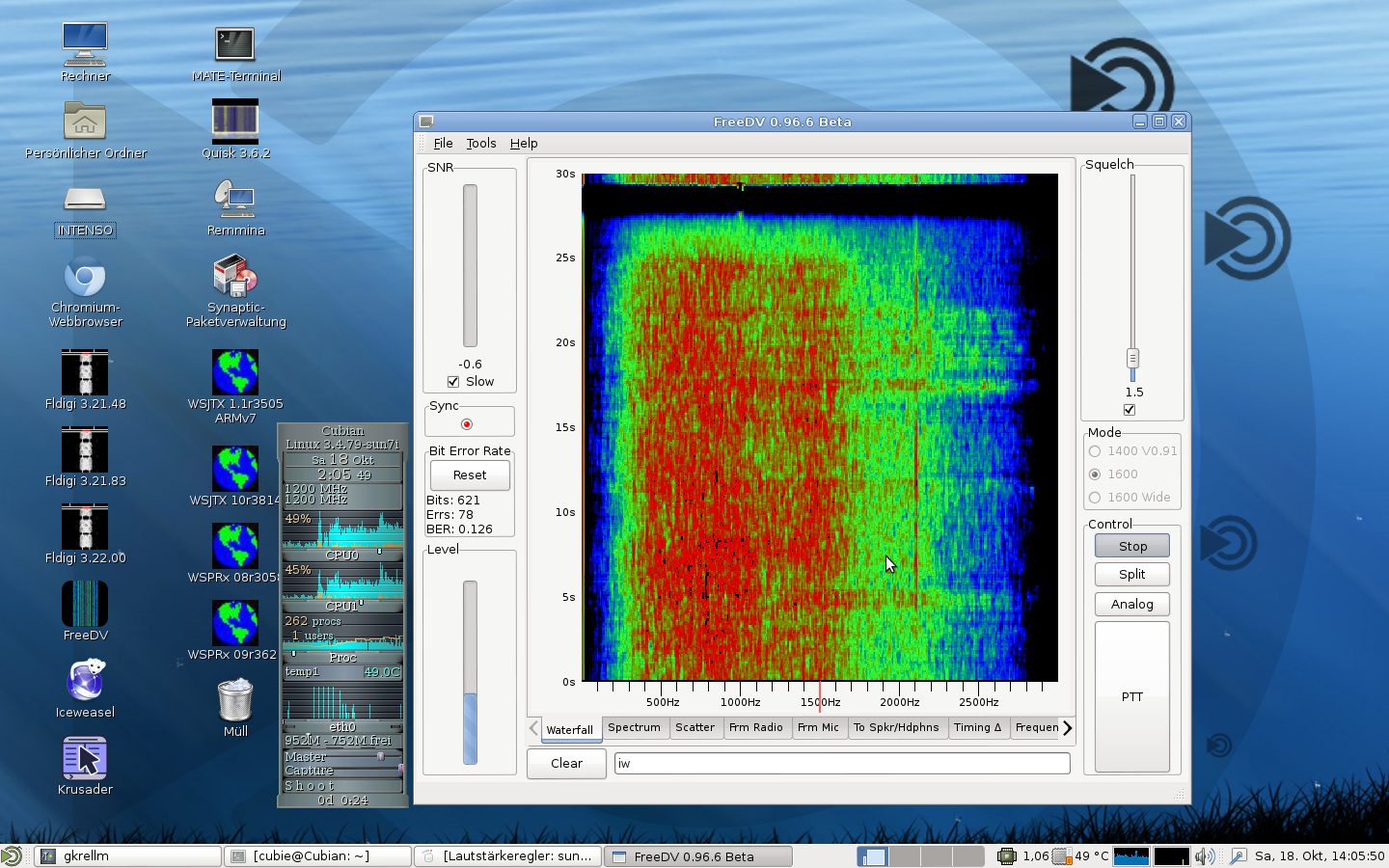 For the BananaPi I found a better working kernel update from "slovenia" and
the FREEDV package which can be transferred from Cubieboard2 to the BananaPi.
After installing 2 additional packages it worked also with Lubuntu14.04.

BananaPi running Lubuntu with Kernel 3.4.104 and FREEDV



update: 6.December 2014
Igor (Slovenia) has released on 3.december 2014 new
Debian Jessie Images for Cubieboard/Cubietruck and BananaPi.

BananaPi Jessie Image (v1.6 Kernel 3.4.105)
Cubieboard Jessie Image (v2.9 Kernel 3.4.105)

Howto install a minimal graphical environment with Mate Desktop with this image?
So i tried it with the BananaPi and Cubieboard2.

1. download Jessie image and put it on SD Card
2. login as root and change your password
3. adduser maybe "bananapi"
4. reboot
5. login as root
6. install graphical environment (slim,Mate) and some setup tools
apt-get install xorg
apt-get install slim
apt-get install mate-desktop-environment
apt-get install synaptic
apt-get install console-setup
7. setup for keyboard layout and other local settings
dpkg-reconfigure keyboard-configuration
dpkg-reconfigure tzdata
dpkg-reconfigure locales
dpkg-reconfigure console-setup
8. switch off DPMS (no video anymore after 10 min timeout)
add a file as root
/usr/share/X11/xorg.conf.d/10-monitor.conf
which content
# SWITCH OFF DPMS
Section "Monitor"
Identifier "LVDS0"
Option "DPMS" "false"
EndSection
Section "ServerLayout"
Identifier "ServerLayout0"
Option "StandbyTime" "0"
Option "SuspendTime" "0"
Option "OffTime" "0"
EndSection
9. reboot and login in SLIM
10. install your needed packages with synaptic
NICE TO SEE:
Some newer programs for amateur radio use are now
in the official sources of Debian Jessie
GQRX
RTL-SDR and other tools for HackRF, BladeRF
GNURADIO (GRC)
QSSTV
FLDIGI
FREEDV
QUISK
and some more
After some work your desktop can look like this.
BananaPi running Debian Jessie with Kernel 3.4.105 and WSJTx r4743



Testing K9AN WSPR decoder with WSPRx (r4178)
K9AN released some time ago an modified WSPR decoder.
Instructions how to use and compile can be found here.
https://github.com/k9an/wsprcan
I compiled the decoder and renamed (replaced) the original file "wsprd" in the
wsprx_install directory with the modified version from K9AN... and it works.
For comparision of decoder performance i let run 2 instances of WSPRx r4178
on the Cubieboard2 or on the BananaPi.
(left window K9AN, right window K1JT decoder)

BananaPi running with WSPRx r4178 Decoder K9AN/K1JT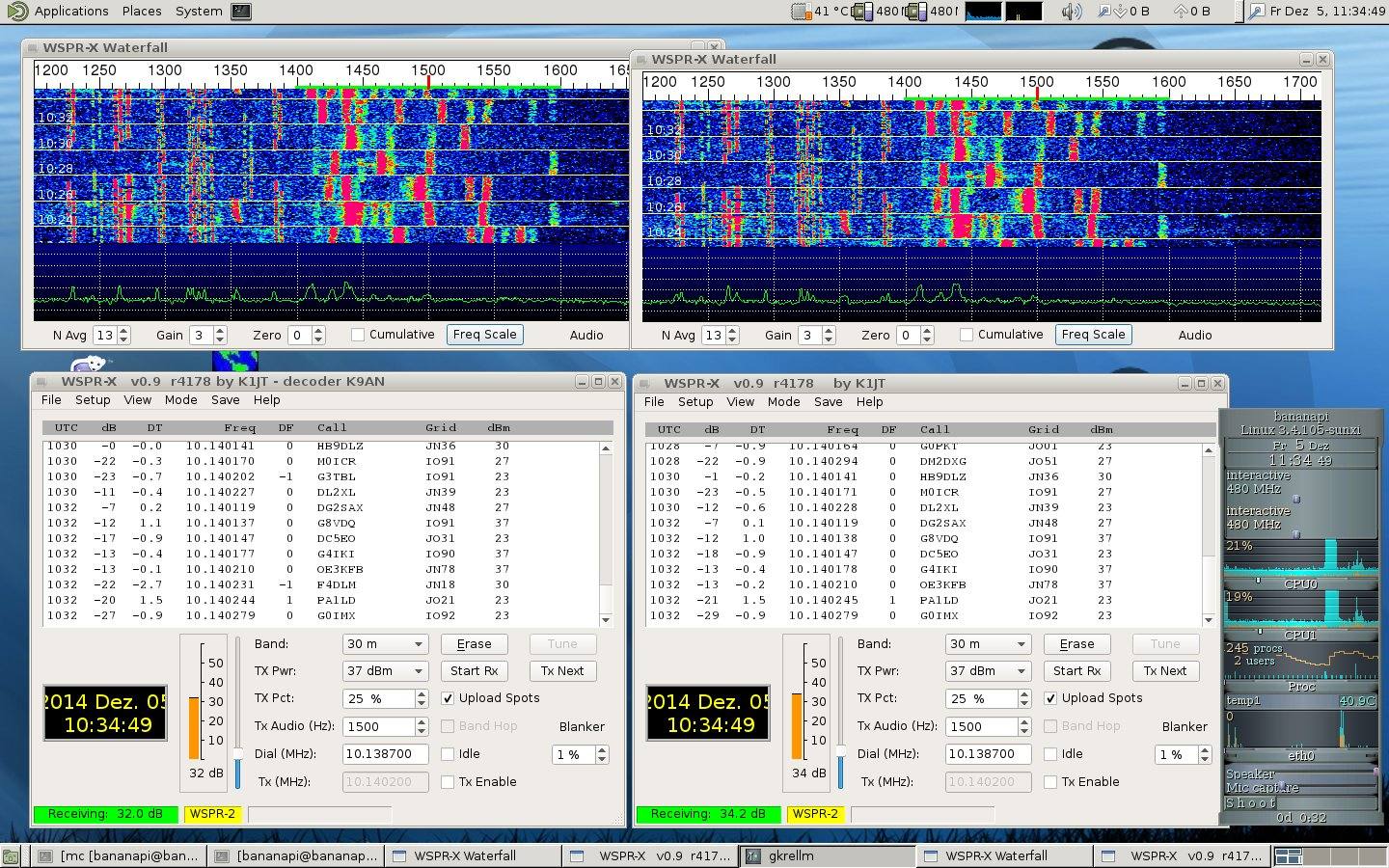 update:24.December 2014
The Funcube Dongle Pro + is a nice toy to play with and can make a
complete monitoring SDR for the A20 boards with low power.
So i checked it with nice results...
I got finally working:
LINRAD (in combination with WSPRx,WSJTx)
The audio bridge is made via pulseaudio server.
also working
QUISK
GQRX
Note: I used the original firmware of the FCD Pro+
(not the RPi Version).
So the useable bandwidth ist 192 kHz.

BananaPi running LINRAD and WSJTx at the same time

update: 10.September 2015
RTL-SDR.com offered in august 2015 RTL-SDR sticks with R820T2 tuner, TCXO and
an SMA input connector. I ordered and got very good results for decoding JT65/JT9 after a first test.
It looks the stick has much better performance because of the good LO and the new tuner.

RTL-SDR with R820T2 and internal TXCO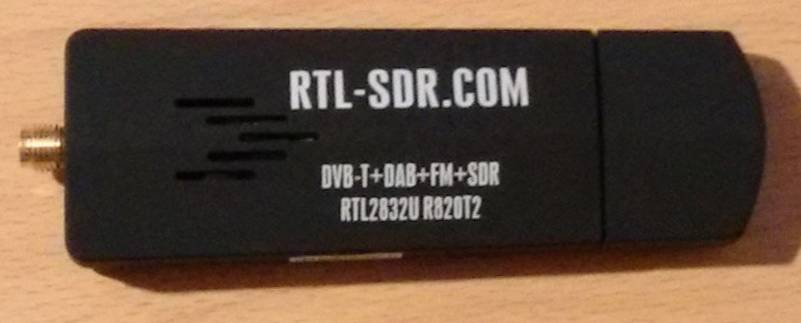 so the BananaPi is now running with RTL-SDR and converter for shortwave,
Linrad 4.06 (250kHz samplerate) and WSJTx 1.6.1-devel r5882
as monitoring receiver



update:3. January 2016
Compile of MSHV V1.06 from LZ2HV as ARM Version on my ORDOID C1.
But it is not working there because of soundcard issues.(ALSA)
So I ported the binary to the Cubieboard2 and it is running.
MSHV is supporting the following weak signal modes
JTMS,FSK441,FSK315,ISCAT-A,ISCAT-B and JT6M

Cubieboard 2 running MSHV1.06 with low CPU-load (1st test FSK441)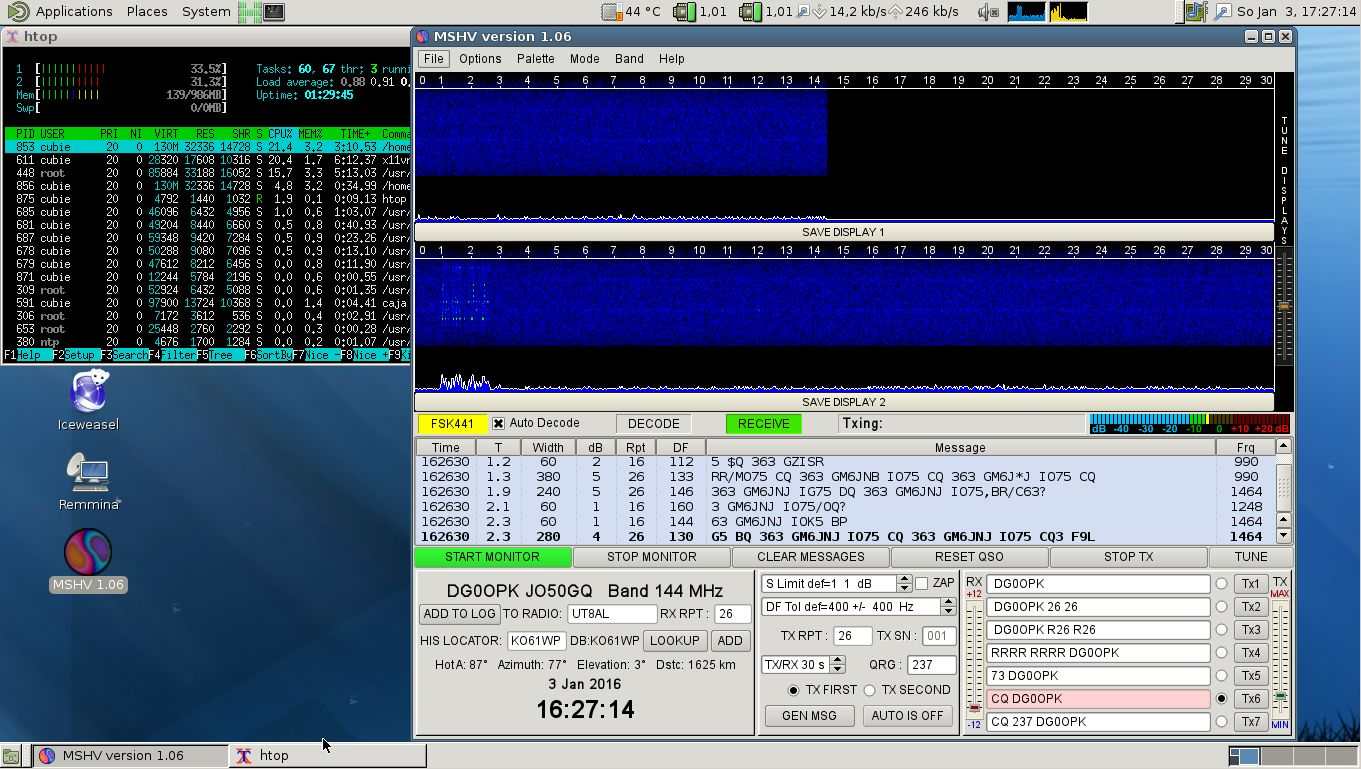 update: 6.January 2016
OPENWEBRX from HA7ILM was transferred to the BananaPi and working with
1MHz bandwidth on the BananaPi with RTL-SDR and shortwave converter.
The CPU load is about 50-60%.

BananaPi running OPENWEBRX on 40m Band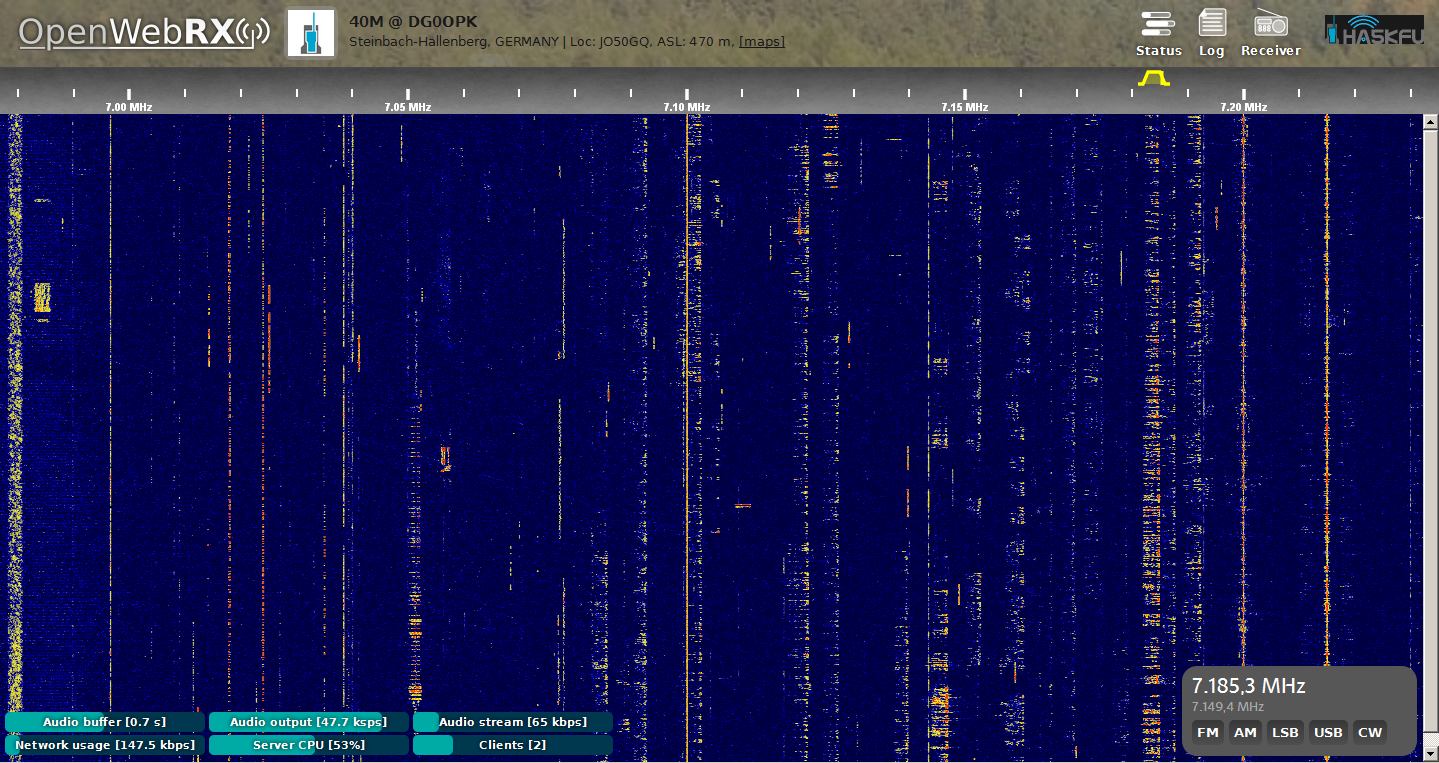 update: 13.October 2016

After some time i made a new test with the actual ARMBIAN 5.20 on the Cubieboard2.
I recompiled fldigi, WSJTx, linrad and GQRX and testet it with the RTL-SDR(tcxo).

Cubieboard 2 running Fldigi 3.23.15-02 with Linrad 4.10 and RTL-SDR(tcxo)

Cubieboard 2 running Linrad 4.10 and RTL-SDR(tcxo)

Cubieboard 2 running WSJTx 1.7rc1 , Linrad 4.10 and RTL-SDR(tcxo)

update: 18.November 2016
A tryout with the BananaPi in MSK144 mode on 6m with WSJTx1.7rc2.
It works with analog LINE in audiosignal but CPU load is on the limit.


BananaPi running WSJTx1.7rc2 in MSK144 Mode
If you need more Information write me an email



Back to main page
last change: 28.december 2016 (DG0OPK)